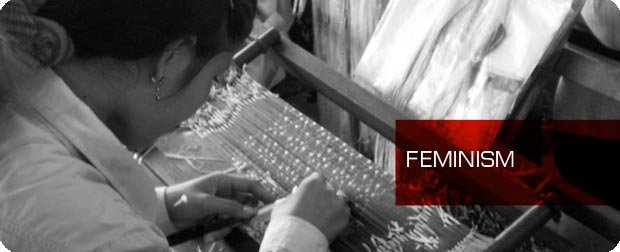 Feminism is descried as a movement that aims to establish equal rights and legal protection for women. Feminism advocates for women's rights and gender equality. However, feminist theories are not restricted to women's issues, but also promote power-sharing, leadership, and collaborative work in order to establish respect and acceptance for diversity amongst all members of the society.
The scope of the Feminist theory is not limited to women's rights and gender equality. It includes guiding principles that can be utilized in a variety of situations. Feminism strongly believes that inclusion leads to equality and that everyone, including women and marginalized groups must be included in decision-making processes. Collaborative work, consultation, dialogue and democratic practices are necessary in decision-making. According to Feminism, information sharing, teaching one another and constant learning allow us to reach our potential and goals. In doing so, Feminism embraces challenges and approaches conflict as an opportunity to reflect, evaluate, and educate.
Reaching healthy conflict resolution not only requires balanced power relationships and trust building, but also enhances knowledge and learning. Furthermore, Feminism promotes accountability and responsibility in addition to providing comfortable and safe environments for everyone. Feminist theories celebrate and accept diversity in ethnicity, culture, age, sexuality, geography, politics, religion, ability, education, etc. and honour each person's choice especially when it comes to social, legal, political and economic issues.
Relevance to ISL:
Feminism promotes the sharing of power and working in a democratic and collaborative fashion. It also encourages continuous evaluation and processes of reflection in order to ensure that the work is effective and in line with feminist principles. This feminist approach allows the project to sustain in long-term.
Example: In designing and implementing a project you need to establish a relationship with the community and seek their advice and understanding in coming up with the project's goals and format. When the project involves the community at every step it is able to sustain for long-term after your departure.
Feminism believes in respecting, accepting and celebrating individual and collective diversity amongst different ages, ethnicities, cultures, abilities, sexualities, geographies, religious beliefs, politics, classes and education. It also promotes equality and inclusion of various groups. Feminism recognizes that inclusion leads to equality. It also encourages creating balanced power relationships and sharing responsibilities, leadership and authority.
Example: If you are working in a community where the parents are very involved in their children's personal lives regardless of the children's age, you need to respect and accept this cultural practice even though it is different from your own culture. This is necessary in establishing and maintaining a trustful relationship with the local community and engaging in your work. Your acceptance of their culture allows for you and the community to be on the same level and have a balanced relationship.
Feminist strategies are developed based on extensive assessment, reflection and consultation in a collaborative manner while creating a balanced power relationship between the different parties involved. The goal is to embrace and share skills and knowledge while providing opportunities to all parties to develop their leadership potential and build a relationship based on trust and inclusion.
Example: If you are project leader it is important for you to establish a respectful and trustful relationship with each member of your team, regardless of their title or role. This relationship includes everyone's contribution. Since your project involves consulting the community and collaborating with them having reciprocal and balanced relationship is essential.
Feminism is committed to gender equality and advocates for the development of respect, trust and acceptance amongst the diverse group of people. Feminism's approach is to evaluate the strategies and to share skills in a collaborative fashion when making decisions. Therefore, from a feminist point of view it is important to recognize the motivation behind the action as well as the ultimate goal.
Example: Be honest with yourself about why you are going abroad to volunteer. Is it the experience you will earn? Is it the exposure to a different culture and language? Do you need some time to escape from your every day activities? Are you going to improve your resume? Do you want to help? Are you going to achieve the your feminist goals? It is important for you to keep your motivations in mind as you begin your work with the community.
Feminism is committed to creating opportunities to mentor and teach each other collaboratively. The goal is to share knowledge and understanding in order to create a healthy and more effective strategies.
Example: An opportunity to work at a farm is a learning opportunity for you as a Canadian farmer. You will have a chance to teach others your skills while also learning their skills. The learning goes beyond learning about a different culture or language. You will learn about how to build relationships, work collaboratively, and practice your leadership skills.