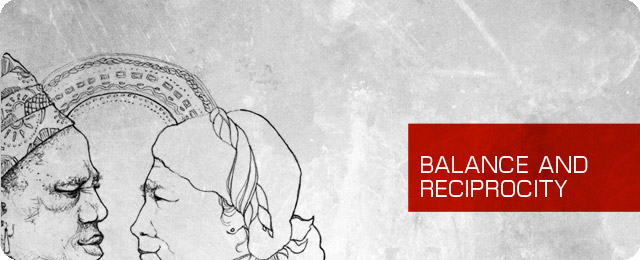 EIESL chose the theme of "Balance and Reciprocity" to capture the key emerging questions, comments, and concerns arising from faculty and student dialogue sessions that focused on building humility, trust, accountability and an overall investment into building and maintaining relationships and partnerships.
Community Voice on Balance and Reciprocity

"Balance and reciprocity is really a matter of time. Short term placements make it impossible to be a part of community processes. The volunteer will usually always take more than they give in these cases. The balance needs to be enacted when they return home. That is where the volunteer can really give more."
– Employee of a Mexican NGO in Comitan, Mexico

"When one has more resources (money) than the other there is always the risk of falling into the pattern of "what do you want to see and I will show it to you." Institutions such as the university need to be conscious of trying to create the most authentic partnership possible. It needs to focus on the realities of the current time and the institution needs to take care not to create hopes of things they cannot do. Be sincere. State the time and resources that are available."
– Employee of a Mexican NGO in Comitan, Mexico
Do we need to go abroad to educate ourselves?
How do we (both as students and as faculty) understand our role in communities?
Is there a comfortable and equitable balance between service to the community and student learning?
How can we ensure we are communicating effectively and respectfully? How can we avoid being paternalistic or alienating? How can we ensure that people feel they have a safe space to be heard and that to feel that needs are being met?
How can we promote collaboration between faculty and community partners to work on connecting course content with service related activities? This can ensure reciprocity of benefit and deepening of the learning experience. [2]
Therefore, EIESL bases its discussions in this guidebook on "Balance and Reciprocity" around the assumption that, to be ethical, students and faculty members need to be thinking and acting in ways that work promote equity and equality in engagement relationships.
Hence, the concept of reciprocity in international engagement involves a deep mutual commitment and treating our own well being as being complimentary to the well being of the community. These responsibilities must not be treated as superfluous, but as integral to producing meaningful international engagement and service-learning experiences.
Citation:
[1] Jordan C (Editor). Community-Engaged Scholarship Review, Promotion & Tenure Package. Peer Review Workgroup, Community-Engaged Scholarship for Health Collaborative, Community-Campus Partnerships for Health, 2007.